JFDI Asia celebrates its fifth birthday and debuts its fiftieth startup among twelve new businesses launching today.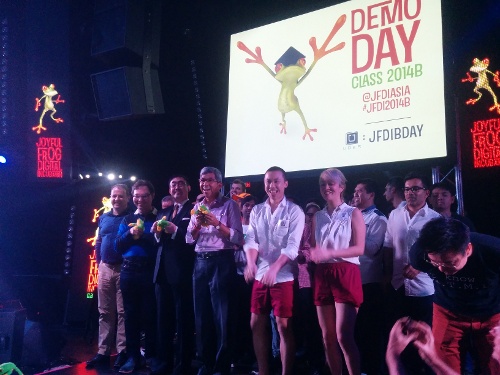 SINGAPORE, 16 JANUARY 2015 – JFDI.Asia (JFDI), Asia's #1 business accelerator, today presented its latest cohort of 12 new startup teams at a Demo Day attended by a strong showing of over 100 local and global early-stage investors active in Singapore. The new businesses bring JFDI's portfolio to 50 global startups, in a week when JFDI also celebrates its fifth anniversary since incorporation.
JFDI invested SGD25,000 (USD 18,675) in each of the 12 startup teams today, together with over SGD150,000 (USD 112,000) worth of intangibles – in technical facilities, office accommodation, intensive mentoring and connections to more than 100 active early-stage investors.
The new crop of startups include logistics marketplaces, entertainment platforms, B2B (business-to-business) SaaS applications and B2C (business-to-consumer) mobile apps. They range in focus from lifestyle to logistics to cyber security and enterprise mobility. They are:
Compared with previous JFDI programs, the latest cohort includes businesses on average at a significantly later stage of maturity.
Wong Meng Weng, Co-founder and Chairman of JFDI.Asia, said: "This cohort came to JFDI Accelerate very well prepared: for months before the bootcamp began, we worked with them to validate their businesses through our pre-accelerator programs. It paid off: many of the teams have now received investment offers even before Demo Day. Our past success rate is usually over 50% – more than half our teams raise seed funding in the $500,000 range. I expect this batch to beat that record handily."
Hugh Mason, CEO of JFDI.Asia said "Once they got here, they were plugged right into the startup ecosystem. Two of Singapore's most active business angels, Michael Blakey and William Klippgen, and two Series A funds, Monks Hill Ventures and Northstar Silicon Island, are residents at JFDI. Together they have more than SGD165 million (USD 128 million) under management. JFDI startups literally sit next to these investors, making the feedback loop very direct."
Following the Demo Day presentations, several investors offered feedback on the 12 startups and commented more generally on the positive contribution that JFDI.Asia has made to develop the regional ecosystem in the five years since its foundation. Among the audience speaking was Dr Yaacob Ibrahim, Singapore's Minister for Communications and Information, who attended Demo Day to watch the startup teams pitch and listen in to the investors' feedback. The Infocomm Development Authority of Singapore (IDA)'s investment subsidiary, Infocomm Investments Pte Ltd (IIPL), have entered a strategic partnership with JFDI since March last year, actively championing the Accelerator model in cultivating a strong pipeline of high growth, innovation driven tech product startups in Singapore that are able to tackle real world challenges and scale globally.
The entrepreneurs presenting today came from Europe and across Asia but all selected Singapore as the best place to incorporate, accelerate and seek financing, based on the country's growing reputation as the Startup Hub for Southeast Asia.
 Martin Markiewicz, CEO of Silent Eight, said: "We were drawn to JFDI's community of mentors, investors and its pool of successful SaaS alumni in Asia. We've had incredible support from mentors and have made valuable connections in the industry. Their experience in the B2B space, for example, in scaling sales and building a partner network to sell our software, has been very relevant in helping us shape the business. With the best practices shared by the community, we've saved ourselves a year by not making the same mistakes."
Applications to JFDI's next accelerator program are now open online at: http://jfdi.asia/accelerate
Information for Editors
Images of today's Demo Day will be available shortly at: www.flickr.com/photos/jfdiasia
Video of today's presentations will be available shortly at: www.youtube.com/user/jfdiasia
Joyful Frog Digital Incubator (JFDI.Asia)
JFDI was Asia's first business accelerator, incorporated in 2010 by co-founders Wong Meng Weng (Chairman) and Hugh Mason (CEO). It has accelerated 50 startups through its flagship JFDI Accelerate program since incorporation on 11 January 2010. In addition, JFDI hosts teams of startups looking to expand into Southeast Asia from countries as diverse as Norway, Korea and Kazakhstan.
JFDI's operations have been sponsored by enterprises including SingTel and government agencies including Innovation Norway and SPRING Singapore. JFDI's investment activities are backed by Asian, European and US-based high net worth individuals, many of whom are successful serial entrepreneurs, and institutional funds including Infocomm Investments Pte Ltd, a wholly-owned subsidiary of the Infocomm Development Authority (IDA) of Singapore.
 Silent Eight (www.silenteight.com)
Silent Eight, a team made up of Polish serial entrepreneurs, which has developed a Software as a service (SaaS) solution for 'Enterprise Search', has been closing projects with large enterprises and government customers. The ambition now is to accelerate that to SGD$70 million annual revenues in 3 years, the reason why the team moved from Poland to Singapore.