Celuv
CELUV is like Flipboard for fashion shopping: an m-commerce aggregator, an Android app which helps the smartphone generation of fashionistas in Asia buy from existing online stores through a gamified user interface.
Social Trends
How do women browse fashion, when they are not window shopping?
Somebody who grew up in the 1980s would be comfortable flipping through a paper magazine and completing her purchase in a brick-and-mortar store.
Somebody who grew up in the 1990s and 2000s would be comfortable clicking through a website, making a purchase online, and having the clothes delivered.
Somebody growing up in 2014 reaches for her smartphone first – but the online fashion retail industry has not made the transition to mobile!
Problem
Many online fashion stores have been operating successfully on the Web for many years. In a web browser, it is easy to open up multiple websites and tab between them. But on a smartphone, switching tabs is not smooth. If each website has a different UI then the experience is jarring. As mobile penetration increases and as tablets increase in size, the opportunity grows for fashion to move to mobile. But it doesn't make sense for each store to offer its own app or run its own campaign.
Online fashion shop owners are struggling to transition from web to mobile. They need an affordable, powerful lead generation mechanism to bring mobile users to their web stores.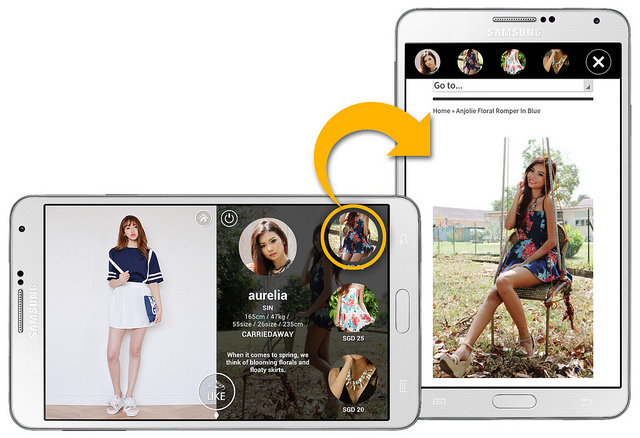 Insights
On mobile, the most successful apps are so interactive that they look and feel like games: in photography (Instagram), dating (Tinder), and news reading (Flipboard). They feature image-heavy interfaces and constant swiping and pressing.
We bring that game-like sensibility to online fashion shopping. We aggregate multiple online stores into a single "virtual mall" in our mobile app. Users, typically women aged 15–35, are able to browse, bookmark, and buy clothes, shoes, and cosmetics through a user interface that feels fast, natural, and engaging.
Flipboard in particular has shown how news aggregation can work on mobile. What Fliipboard and Instapaper do for news, we do for fashion shopping. The media assets developed by online fashion shops can be repurposed for mobile, and sales can be completed using existing websites on a mobile browser. This means the online fashion shops don't need to develop their own apps or commission a mobile-friendly version of their website; they can just use CELUV as a marketing and sales channel. As with Flipboard, the online fashion shops don't even need to know they're being browsed through CELUV!
Solution
CELUV makes it easy for online web fashion shops to sell on mobile. They upload existing assets to CELUV through our web app interface.
CELUV then beautifully displays inventory in the mobile app. Shoppers can enjoy browsing through thousands of products and quickly find, bookmark, and buy their favourites. We display two items at a time, asking the user to choose the one they like better, because that creates a wealth of taste data which we can mine. (Paul Graham once called this idea "new paths through product space".) Once they find an item they want to buy, they can get detailed information about the item and directly buy it from the original website by simply touching the item's photo.
Auxiliary game mechanics increase engagement. CELUV presents new styles everyday. CELUV users vote for their favorite styles and this creates daily rankings. The users are able to get discount coupons from their favorite shops and also get scores. If they do not have enough time to compare all items on CELUV, they can scan the popularity of all the styles at the rankings.
To create additional hyperlocal touch-points with consumers, CELUV plans to host offline fashion parties – a marketing opportunity not only for CELUV, but also for vendors, online fashion shops' models, and participants. This is also a loyalty program that CELUV users can meet their supporting models and shops in person.
More information
Official Facebook Page
Creative Commons images
Contact celuv@jfdi.asia