Making the daily lives of the busy corporate people around us more convenient and less stressful gives us immense joy and satisfaction, says Varun Saraf of JFDI Asia Discover startup WhyQ.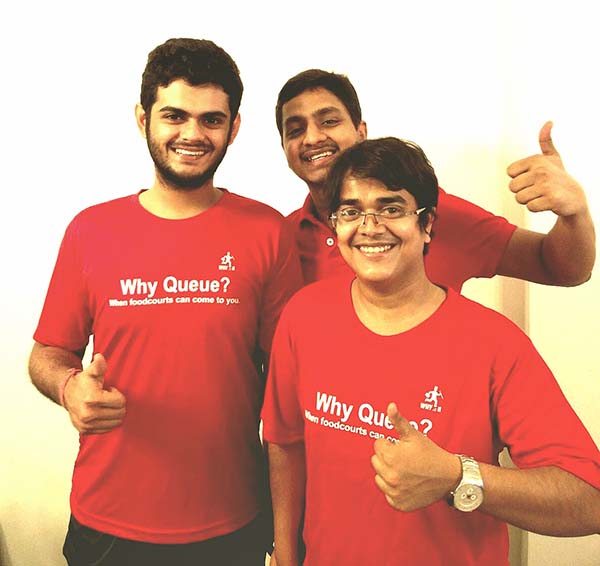 1. Tell us about your startup and team – who are you, and what are you aiming to do?
At WhyQ, we're a team of 3 incredibly passionate and energetic young folks striving to make daily lives of corporates more convenient. We aim to do this by delivering lunches from Singapore's popular food courts to neighbouring office buildings during peak hours at lunch.
2. What brought you to JFDI Discover?
Sharing thoughts and ideas with a bunch of like-minded and bright individuals from across the world, along with the opportunity to discuss our product with an incredibly experienced JFDI team, made us sign up for JFDI Discover. The insights and guidance we have gained over the past few weeks proved us right about joining.
3. Why did you start this business?
Having worked in business districts for 3 years, we have often experienced problems during lunch hours because of long queues and limited seating capacity due to overcrowded food courts. We realized that we were spending valuable time and energy from our hectic daily lives to simply have lunch. Lunch ended up being an additional hassle to an already stressful day. United by a passion to build something new and make daily life simpler and more convenient, we started this business.
4. What were some of the challenges you faced before joining JFDI Discover?
The biggest challenge was understanding how to reach out to a much larger audience as compared to our beta phase. We weren't sure how to build on our existing customer base from our Changi pilot, and launch to our main target market in the Central Business District of Singapore.
5. How did JFDI Discover help your startup?
JFDI Discover helped us structure our approach and engage potential customers through problem & solution interviews. It then gave us the impetus to go ahead and conduct a close beta phase in our main target market. This gave us an additional boost as we witnessed first-hand how excited our target customers are. We realized we could build on our existing user base and with a steady growth rate progressively expand to meet our targets.  It also helped us gather important feedback and suggestions that we are looking to incorporate into our system.
6. What was your favorite and least favorite aspect of JFDI Discover?
Our favorite were the mentorship from the JFDI team, and the opportunity to meet teams from across the world and exchanging ideas with them. Our least favorite was that coaching time was limited. We would have liked to have spent more time in-person with the JFDI Discover team.
7. What is the one lesson you took away from JFDI Discover that you think other founders should know too?
Problem and solution interviews should be conducted in the early stages of any startup, instead of waiting for the product launch. this will help you better understand your target market's preferences.
8. Where is your team planning to go from here?
Conducting a closed beta phase and getting validated by our target market has given us a massive boost. We have a huge target market willing to embrace our solution. So after refining a few processes based on our current feedback, we will prepare ourselves for a full launch. Having seen the impact that theJFDI Discover online program has had on our startup, we firmly believe an intensive full-time program like JFDI Accelerate will help us grow immensely, and we would love to be a part of it.
9. Which resources do you look to for startup related advice? Have you read any books on startups?
We recently read Zero to One from Peter Thiel. We think it is a great read for anyone who is working on a startup because of the fascinating insight into startups. We also attend various forums, conferences and startup events in Singapore to meet new people in startups and constantly exchange ideas. Over the past week, we have also referred to Kai's Evernote notebook, which is a great resource.
10. What topics do you want us to write about? We want to hear from you because you the expert as the audience. 
We would like you to write about how startups should work towards gaining traction, and also information on what potential investors look for in startups and how we could approach these investors.
11. Who would you recommend to Discover?
I feel it's something all early-stage startups should go through. It's for anyone who requires guidance and validation since it provides a very helpful structure.
12. What was the biggest surprise for you coming out of the program?
Having conducted a pilot in Changi, we knew there was a potential target market; however, after running a closed beta phase in the Central Business District, we realized there is a much greater demand for our service there, as compared to Changi. We obtained data which showed that on an average, a customer would save 25 minutes using WhyQ, and would use WhyQ twice a week which is much higher than our expectations. We now have a huge target market willing to embrace our product and this to us was a very pleasant surprise and instilled immense confidence in us.
13. How has doing a startup impacted your life?
It's finding this opportunity to work on something we are genuinely passionate about and to create this product that can benefit the daily lives of the people around us. That gives us immense joy and satisfaction.
---

Steph Jarina is on the editorial team of JFDI.Asia. You can follow her on Twitter at @stephjarina.