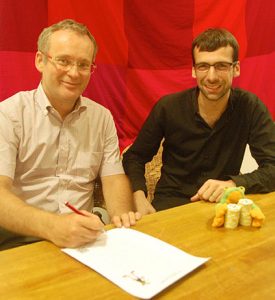 Singapore, Singapore — May 27, 2013 — Collabspot Pte Ltd today announced that it has reached agreement for veteran Google Enterprise Partner and Google Apps Reseller Laurent Gasser to join its board in an executive role as Director of Business Development. Mr Gasser will invest an initial S$100,000 in the business, reserving the option to increase his stake in future.
Jeremi Joslin, Founder and CEO of Collabspot, said: "Laurent generously gave his time to Collabspot as a mentor through the JFDI.Asia accelerator program. It was immediately apparent that his experience as the first non-American to be trained to provide Google Apps Solutions, even before they were launched, could give us a huge boost as we scale up worldwide. Laurent and I found ourselves working well together and it's now a huge honour that he has agreed to join me to help lead the business in an executive role."
Laurent Gasser is a serial entrepreneur who brought Google its first multinational client for the Apps product range before co-founding Revevol in France in 2007. Now covering 10 countries, Revevol is the first worldwide network dedicated to Google Apps, helping businesses to create value by running operations on the cloud with Google.
Laurent Gassler said: "When I met Jeremi I was struck by two things: the traction he had already achieved with Collabspot and his vision for the future. I join the business as it approaches breakeven on its fixed costs and I am excited by the opportunity to use the capital that I am injecting to ramp up growth internationally."

Collabspot joined the JFDI.Asia accelerator program in February 2013, receiving its first investment from JFDI.Asia along with intensive mentoring through the 100-day program. Collabspot will present itself at JFDI.Asia's forthcoming demo day on 3 June. Ahead of demo day, it is the first company from the current JFDI.Asia batch of start-ups to secure follow-on funding.
Collabspot is a sales email platform that integrates CRM with Gmail. Its users are typically Small-to-Medium sized Enterprises who gain three benefits: 1) Simplified data entry, with the ability to save emails to CRM with a single click without having to manually enter them; 2) Increased CRM adoption, as a whole company can instantly view contact info, upcoming and recent activities, and manage Opportunities and Cases without opening the CRM; and 3) Increased productivity as data becomes more accessible to business developers and marketing/sales reps. Collabspot was founded and incorporated in Singapore by Jeremi Joslin and a team of developers from the Philippines in 2012.
Starting by qualifying as certified public accountant, Laurent Gasser has an outstanding career which he has built on 5 continents through vision and dynamism. Between audit, consulting and entrepreneurship, Laurent has always been one step ahead.
He began in audit in New-York and Paris, then spent 2 years in Africa (Benin) for a consulting mission. At 26, Laurent created the first French subsidiary of an audit and consulting firm in Eastern Europe (Budapest). From 1991 to 1996, he developed and ran the Mazars network in Central and Eastern Europe. Under his leadership, the network got organized into 4 offices including 110 people in 1996.
After this first experience in emerging markets, Laurent joined RSM International, the 7th global audit network. He developed and managed RSMi and created the network of member firms in China. At 35, Laurent became the youngest elected president of the French Chamber of Commerce and Industry in China. Thanks to a reorganization and the opening of two new offices (Shanghai and Guangzhou), he doubled the number of members and revenue. Meanwhile, he launched the first Sino-European joint-venture of legal audit, Salustro ZhongRui, and consolidated its expertise of the Chinese market.
In 2002, Laurent moved to Brisbane (Australia). He created and developed the www.personatests.com company, an online psychometric assessment. Since 2006, Laurent came back to France in Paris and became Microcost CEO. At that time, he was the first non-American to be trained to Google Apps Solution in Mountainview (US), even before their launch. Convinced of the power of these new collaborative tools, he founded Revevol in 2007 and became its CEO. With his dynamism, he encourages the global development of the company and his teams.
Revevol empowers businesses to create value by running operations on the cloud with Google. It is the first international Partner dedicated to Google Apps, focused on business process improvement, coaching, training, and change management and backed up with a worldwide network of services. Louis Naugès and Laurent Gasser, Revevol founders, brought Google its first multinational client and were the first non US partners to be trained in Mountain View in 2006. Since 2007, Revevol has been a "Google Enterprise Partner" and since 2008 a "Google Apps Authorized Reseller".
Interested in joining the next JFDI.Asia accelerator program starting August 2013? Details and pre-registration