Stylhunt
In emerging markets, where online shopping predominantly takes place through Facebook and Instagram, STYLHUNT allows shoppers to find shops they can trust in just a few clicks. This use case is currently underserved by Google search because it is not optimized for social media content and does not return relevant search results that signal or factor in trustworthiness. We address this issue by aggregating thousands of merchants and allowing shoppers to quickly filter through them on the basis of style and trust.
Problem
Online shoppers in emerging markets typically don't have the option to buy from big brand stores with reliable delivery services, and the consumer protection that comes from purchase through a credit card. It is exceedingly difficult to find trustworthy vendors in social commerce markets because:
There are thousands of similar offerings, and
Google search is not optimized for social media content.
Unlike conventional web content, Facebook and Instagram pages are essentially limited to only the URL, page title, and the "About" description as a means of performing SEO. As a result, Google searches for social media shops returns hundreds of random links with very little relevance to the shopper's search objective.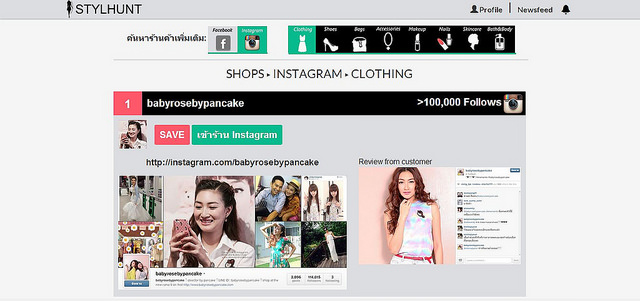 Solution
STYLHUNT aggregates and indexes thousands of social media merchants, and allows shoppers to quickly filter through them on the basis of style and trust. Style is assessed visually through search result images representing each merchant's product selection. Trust is assessed through ranking by total Likes or Follows (indicating community trust) and Friend Likes (indicating trust from the user's personal network).
Shoppers can save favourite merchants and products to a wish list or collect visual bookmarks for future reference. In addition, they can share their collections to exchange shopping discoveries, gift ideas, fashion trends, and personal expression with friends or the wider community.
More information
Official website
Creative Commons images
On Angel List
On Crunchbase
Contact stylhunt@jfdi.asia