Silent Eight Search
We bring Enterprise Search into the 21st Century, with support for both on- premise and cloud integrations. Our unified search interface spans fragmented repositories of enterprise data and lets users locate, discover and use the right information in less than 30 seconds. We target Fortune 500 customers and aim to reach $70 million in revenue in 3 years.
Problem
Organizations need to be able to find, access, and use unstructured information as easily as they use structured information today. 90% of a typical content is unstructured, locked in a variety of formats, locations, and applications made up of separate repositories that don't talk to each other. Unlocking information from this content is not a trivial task, and many organizations face roadblocks because of a lack of appropriate technology and processes.
Enterprise users are familiar with the problem of repeating a search in multiple applications. According to IDC research, 61% of knowledge workers need to access 4 or more systems and 13% need to access 11 or more systems on a daily basis to get the information that they need for their jobs. They spend on average 7 hours a week just searching for this information. This isn't productive: knowledge workers find the information they need only 56% of the time.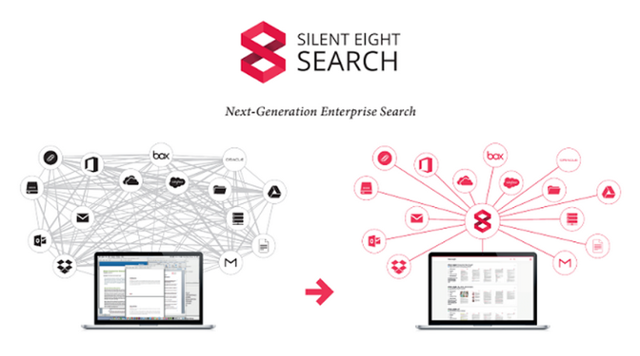 Solution
Silent Eight's mission is to organize every business's information and make it internally accessible and useful.
Our solution lets users securely search inside email accounts; local hard drives; shared discs; cloud services like Dropbox, Google Drive or Box; ECM, CRM and ERP applications; and other data sources. They quickly discover the right results, with the help of our data visualization engine, without the need for opening and browsing random documents in different places and different apps.
What Google does for the Web, we do for companies.
Mining the existing information and knowledge of an organization is a great way to improve productivity or generate new revenue at a fraction of the cost of new research.
More information
Official – website
Creative Commons – images
Contact: silenteight@jfdi.asia