Rush Bike
RushBike offers on-demand, crowd- sourced motorcycle courier services through a web and mobile platform. The model is similar to Uber, Grab- Taxi, and Go-Jek, except we enter the market by moving goods and papers instead of people.
As context – in Bangkok, motorcycle couriers are a big part of the urban landscape. When an individual or SME needs something delivered, first they phone a few trusted couriers. If their preferred drivers aren't available, they send someone to the nearest street corner where independent couriers wait. They negotiate a rate, and the parcel is off.
Motorcycle drivers often do double duty as taxi (during peak commute times) and as courier service (during off-peak). However, the utilization rate is low due to inefficiencies.
Some companies maintain their own fleet of couriers but this is too expensive for most.
Problem
From the user's point of view, the transactional nature of the service leads to low-trust interactions and high prices. Individuals and SMEs prefer to do business with couriers they trust, but those couriers may be out on jobs and not available – delaying the delivery. Even finding any courier can be difficult during peak hours.
From the courier's point of view, utilization is low and it's hard to make money. The average rider does only one job per day. If demand were more predictable and utilization were higher, they could charge less money per job.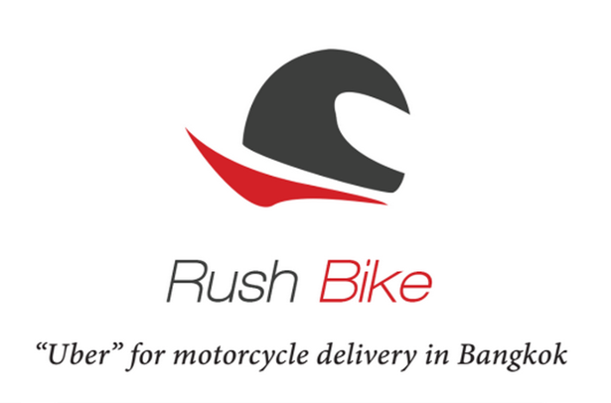 Solution
RushBike provides a marketplace to connect courier supply with demand. We follow the models proven by pioneers in other geographies.
When activated, our courier can deliver in under 59 minutes, through all over Bangkok – saving individuals/ SMEs staff the trouble of going out on the street. Costs are predictable, based on distance and time. SMEs gain the confidence and reliability of in-house drivers without the overhead of maintaining a fleet. Customers can track their package from pickup to delivery.
Most importantly, payments are made through our platform. No cash changes hands.
More information
Official – website
Creative Commons – images
On – Angel List
On – Crunchbase
Contact: rushbike@jfdi.asia