Roomfilla
Overview
"You hand us the keys, we do the rest." Roomfilla helps property investors win at short term rentals. We take the hassle out of running it by doing the jobs that landlords don't want to do. To delight guests, we fill the gap between an Airbnb and a five-star hotel by unbundling high-margin premium services – from the minibar and laundry to the car rental and zoo package.
Problem
Owner Problem
Many owners want to rent out their properties through these kinds of sites, but landlords generally don't want to be hoteliers. Negotiating bookings, passing keys to guests, cleaning up afterwards: hospitality involves hassle. Hence third-party property management, a model which has been proven in the U.S. by Guesty, previously Superhost.
Tenant Problem
Many guests want a five-star experience, but Airbnb doesn't come with a concierge. The usual upsells available in the traditional travel industry (the
hotel bar, drycleaning, the car rental, the tour package) are excluded from the Airbnb model.
Market Structure Problem
Also, with the proliferation of Airbnb clones, handling the listings on multiple sites quickly becomes overwhelming.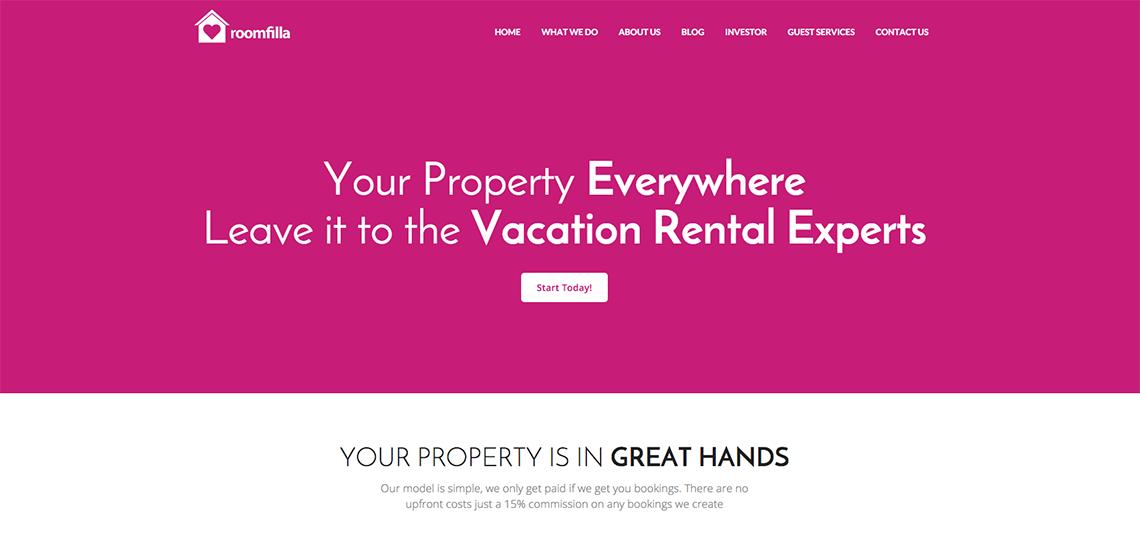 Solution
We have built a fleet of property managers who do all the work of turning a home into a hotel. We offer premium upsells to third-party affiliates to make the Airbnb experience more like a traditional hotel package booked through a legacy site like Expedia. When a guest books a property we manage, we send them a link to a premium-services page to complete their experience. This is automated. Why is this the right time? The industry's first wave of enthusiasts are discovering that they can't sustain the work of hospitality, and are willing to hand that work to us.
More information
Official website
Creative Commons Image
Contact: roomfilla@jfdi.asia