Quickly
Quickly supports overloaded email users by suggesting options to automate repetitive tasks that they perform across different cloud applications every time they receive different classes of email. The service was announced on June 18th and, within 24 hours, acquired 250 signups including senior executives from Facebook, Yahoo, Stanford, Harvard, HP, Paypal and Oracle.
Business Premise
"Software-defined enterprises are the future," said Wired Magazine earlier this year. They were referring to cloud infrastructure and cloud apps: IaaS, PaaS, SaaS. The next layer above SaaS is Integration Platform as a Service: what Gartner calls IPaaS.
Integration platforms are the glue of a business. In previous generations of on-premise enterprise software, businesses used integration platforms like Informatica, Tibco, and IBM Websphere to make disparate software applications talk to one another.
Today, companies run essential business processes on cloud apps: Mailchimp, Asana, Sendgrid, AWS, ZenDesk, Google Docs, etc. All these apps offer APIs, but many businesses still operate those apps by hand.
While the incumbent integration platform providers are extending their heavyweight frameworks to handle cloud services, a new generation of "cloud native" integration platforms are responding in a more lightweight manner: IFTTT and Zapier are the best known. Quickly is part of that movement, but with an emphasis on fully scriptable logic and on email as a backward-compatible entry point.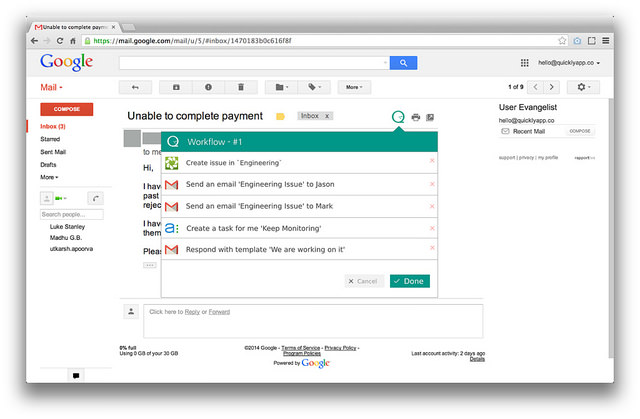 Problem
Many tasks performed by business executives on their computers can and should be automated. For example, suppose an email campaign goes out to 10,000 recipients. 24 hours later, Mailchimp emails to report that 30% of recipients clicked on one product; 20% clicked on another. Those leads need to go into a CRM system (eg Salesforce), tagged appropriately by product interest. Then they need to be assigned to appropriate members in a sales team (by geography, described in a Google Docs spreadsheet) for manual follow-up (in Asana) then announced to the sales team (using Slack). At present, this business logic is executed manually, by a sales manager – who has better things to do with his or her time.
Solution
Quickly chose to first support email as an event trigger because it is the default messaging system of the Internet. Services like If This Then That (IFTTT) and Zapier support many triggers but that creates a barrier to entry: uncommonly high levels of technical confidence are required to use such services. Quickly aims to empower non-technical users to benefit from automated business processes by integrating email events intelligently with existing service backends.
Quickly integrates with Gmail (as input) and all other API enabled Saas applications (as output). All incoming emails are analyzed and any triggers detected are underlined. When the user hovers, an inline popup shows suggested actions based on all the relevant data, for example: creating to-do tasks, attachments, CRM actions, note-taking, setting meetings, and sending canned responses. With one click, the action is completed.
Quickly can do this because it learns from its users' past behaviours. So every user that joins the system helps to train Quickly to everybody else's benefit.
Quickly reduces the processing time from 3 minutes to 30 seconds. Over a week, it can save up to 8 hours – making workers 25% more productive. Additionally, due to its intuitive feel, there is no psychological cost involved with using it.
More information
Official wwebsite
Creative Commons mages
On Angel List
Contact quickly@jfdi.asia