QLC
Over 100 million millennials will change jobs 12 to 20 times over the course of their careers. They seek purpose and passion; they seek challenge and change. But existing career sites have not kept up with the personalized engagement that millennials expect.
QLC.io offers millennials a way to test-drive and sample their next career move. It could be a job at a startup; it could be volunteering with a nonprofit; it could even be a year off to travel and find themselves.
We reinvent career discovery for the mobile web, with user reviews, visual navigation, predictive recommendations, and a try-before-you-buy model, serving ambitious, global twenty-somethings wanting to relocate.
Market Structure and Customer Profile
We connect three major markets, and we monetize all three. Employers pay us to recruit millennials as employees. Lifestyle destinations like tour packages, hotels, and meditation retreats pay us to acquire and refer millennials as customers. And millennials themselves pay us to be part of the community, and for premium features – just as Amazon's customers pay for Prime membership.
"Millennial yuppies" see themselves as talented, ambitious and passionate people who quickly become restless in corporate environments. They went to a good school, then an elite university, then a string of top tier corporate firms. They grew up reading Harry Potter, Hunger Games, Kerouac, and Bukowski. Now they are in a 9-to-9 management consulting job, and yearn for authenticity. They envy peers who hop from company to company and city to city. Many aspire to become digital nomads for at least 6 months to 2 years.
Our early adopter has given notice, and is looking but has not found the next thing. Often they are thinking about contributing to an exciting startup or joining a change-making social enterprise, but are not sure how to make the leap or whether they are qualified.
QLC.io offers such millennials a way to connect to new opportunities.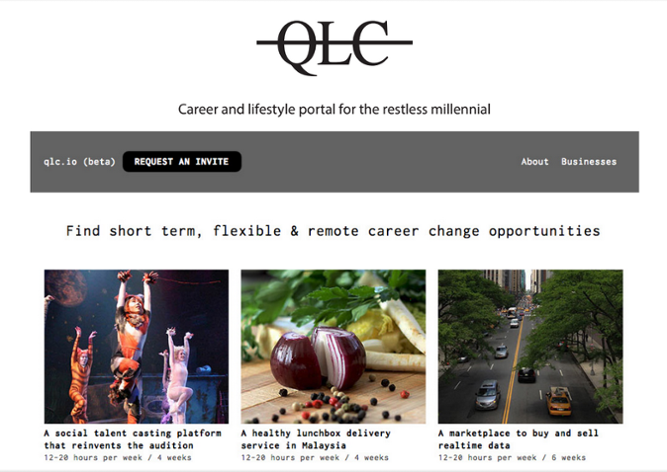 Solution
QLC.io is a lifestyle change platform enables skilled, ambitious corporate millennials to trial and transition into alternative careers and opportunities.
We help them move into work they are interested in and that matters to them. The target organisation will be able to access a pool of talented professionals they might not otherwise be able to reach and recruit.
We add value by providing the due diligence, counselling, training and knowledge transfer for the candidate to transition smoothly into their next role and life.
QLC.io placements can be short-term, remote, and flexible. Our customers are sticky in both the short term (as they try multiple possibilities rapidly) and in the long term (when, after 3 years in a role that they love but outgrew, they come back to us looking for the next thing.)
More information
Official – website
Creative Commons – images
On – Angel List
On – Crunchbase
Contact: qlc@jfdi.asia