Heyleela
HeyLeela aims to change the way millions of women in India discover fashion online.
Our web and mobile app enables frictionless, optimised product discovery for users and lead generation for retailers.
The HeyLeela backend aggregates items from India's leading fashion and lifestyle stores and crowdsources social and in house curation of the best items.
We compete on simplicity, clean UX and daily actionable content: our recommendation engine moves the user to a sale quicker.
Problem
In India, ecommerce is growing at 57% per year. The successes of Flipkart, Jabong, and Amazon Women have inspired thousands of smaller merchants and boutiques to come online.
Together, they serve a large population coming online at an exponential rate, many using mobiles. 5 million new users are coming online every month in India – 70% on mobile.
The result: fragmentation. Consumers find it hard to discover products and stay abreast of all the e-commerce stores coming online. In particular, fashion shoppers find it hard to search and filter through the world of fashion related products, especially on a limited screen.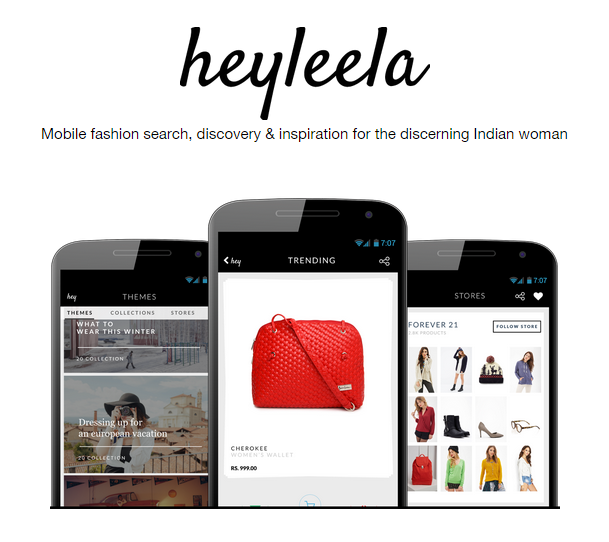 Solution
HeyLeela features a mobile app and website where fashion lovers can discover beautiful, unique products.
By aggregating large and small online retailers in India through web- scraping and data-exchange partnerships, we create the single largest virtual mall in India. Consumers can flip items left and right much like Tinder.
Our proprietary recommendation engine analyzes the user's preferences and tastes, and attempts to optimize conversion accordingly. This element is critical because we try to sell more by showing less – we avoid buyer fatigue by reducing the path-to-sale.
We respond to the price-conscious-ness of the Indian market by offering a Sale Alert feature. Users can also save products for later, create collections, see where else an item is available, compare items, etc.
More information
Official – website
Creative Commons – images
On – Angel List
Contact: heyleela@jfdi.asia