FetchFans
Fetch Plus, a B2B web service that gives brand franchises with local businesses control and analytics as they use social media to maximise impact for all their franchisees.
Overview
Our product FetchFans is a one-of-a-kind enterprise social media marketing software solution that enables brand franchises, media companies and SMB / SMEs to market and scale their brand across local Facebook brand pages and social networks whilst maintaining control of its brand guidelines.
With a team of eight across four countries, the company has secured a revenue share agreement with the largest media company in Australia to roll out the technology across all of its 300 plus mastheads and digital ventures as well as to its current and future advertising customers.
The company was named the sole social media technology for the largest international real estate company with 89,000 real estate agent representatives.
The company is also the only social media marketing solution for use on the SingTel SaaS SME dashboard and will be rolling out industry-specific social media marketing solutions powered by FetchFans technology commencing in latter 2013.
Problem
Currently, no social media marketing platform exists that enables SMEs, franchises and media companies to scale and manage their businesses and masthead publications across social networks. The enterprise solution enables media companies to generate advertising and sponsorship revenue through its SMB/SME marketplace with a wide variety of advertising functions and resell a host of marketing tools to its customer base. The platform is built where no technical skills are required and scaling can be achieved in one click reducing time and resources significantly. The product suite covers all areas of marketing from design / apps / analytics / training / planning / posting.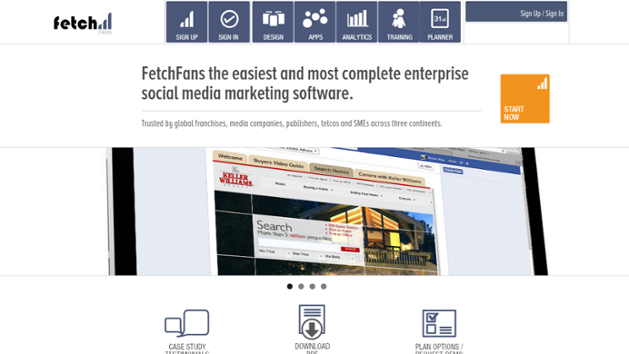 Product
FetchFans.com is an enterprise social media marketing software built to support all forms of marketing and advertising for brands with franchises and media companies on local Facebook business pages and social media channels.