Digify
Digify is a platform for sharing con-fidential files. Our multiplatform software lets anyone send sensitive documents while preserving privacy: senders can prevent recipients from saving, printing, and resending files.
For business professionals, Digify is like an implicit NDA. End-users can share financial or medical data. Copy-right holders can images and text with peace of mind.
Digify-protected files are eyes-only and can be scheduled to self-destruct. Files are tracked, and access can be re-voked for items already sent.
In July 2014, Digify won the RSA Innovation Sandbox APJ award. Di-gify has been featured in sites such as VentureBeat, Engadget, Lifehacker, The Guardian, and more. http://www.di-gify.com/news
We are now in go-to-market phase, in discussions with channel partners such as Autodesk and Dropbox.
Problem
When content is shared over the Internet, the sender loses control once the recipient downloads the file. There is no way of knowing what happens to the file, or who else is accessing it. It can be forwarded to other people, or posted on the web, without the sender's knowledge or consent. The file, once sent, is out there forever. Current solutions tend to revolve around encryption, which is good for protecting information in transit. Once the file is decrypted, the information is exposed.
Today, the friction for protecting information is often just too great. Sensitive data is simply never sent, and commerce suffers because senders withhold important information.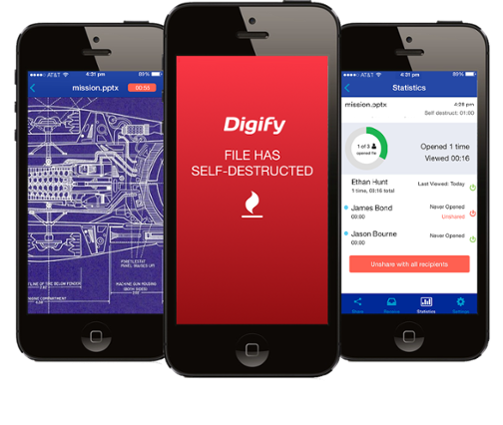 Solution
Hollywood deals with piracy by streaming movies and music. Similarly, Digify gives senders control and peace of mind by streaming, protecting, and tracking shared content:
1. Files cannot be saved, printed or forwarded. Screen copy and recording attempts are detected and disabled.
2. Files self-destruct after a given time.
3. Access is restricted and can be revoked at any time by the sender.
4. Shared files are tracked, reporting analytics to the sender.
"Confidential" files require a native client, available for PC, Mac, Android and iOS for greater security and protection from screen captures.
"Standard" files can be viewed via the web.
More information
Official – website
Creative Commons – images
On – Ange List
On – Crunchbase
Contact: digify@jfdi.asia