Codetoki
Codetoki is a platform that helps companies develop and hire programmers efficiently. Codetoki transforms traditional job requirements into badges, which can be earned through multiple choice questions, programming challenges, and real-world projects. We then gamify the process of earning those badges, making them more fun and engaging for prospective staff to work on.
By engaging both sides through gamification, we help hiring managers more accurately identify the specific skills they are looking for, and we help developers find better jobs faster by preparing and proving themselves for those jobs.
Problem
Companies spend time and resources to find the right programming talent that fits their requirements. SMEs typically spend 3 man-months to recruit each position. On top of that, they participate in campus recruitment, job fairs, and road shows. They spend money to build brand awareness and post in many different job sites. However, it is hard to identify the right fit from the hundreds of applications because the resume doesn't tell enough about the skills of the applicant. Screening resumes often leads to false positives.
On the other side, IT/Computer Science undergraduates often don't know what skills to learn to qualify for a job. The university curriculum is often out of date, training students for job roles that stopped existing 10 years ago. Some forward-thinking universities engage with industry once in a while to ask businesses what they want, but that is about the extent of it.
Trend
There is a movement around gamification of school and work. Badgeville and Kaplan University report that gamification "boosts motivation, participation, and […] success".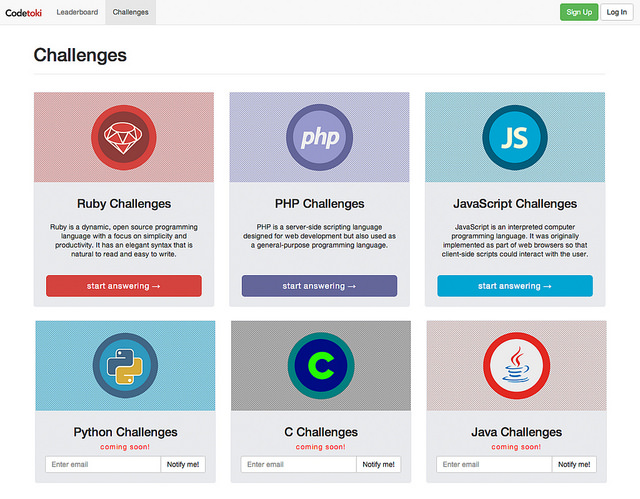 Solution
Our solution is a gamified test platform where we transform traditional job requirements into badged achievements, in the form of tests, in-browser code challenges, and test projects. This enables applicants to know exactly what skills they need to have to qualify for a job – whether that job is the first job out of university, or a subsequent job change. We would then match applicants to companies based on skills fit.
More information
Official website
Creative Commons images
On Angel List
On Crunchbase
Contact codetoki@jfdi.asia