Casting DB
It's like the Internet never happened to talent casting. How do actors, dancers, singers, models and other performers get jobs? By waiting for hours and then being dismissed after only a few minutes. There's got to be a better way!
CastingDB takes advantage of the ubiquity of video to create a talent casting platform that's in tune with modern web and mobile app design sensibilities. What eHarmony and Tindr have done for dating, what Hipmunk, Skyscanner, and Orbitz have done for air travel, we do for talent casting. Our professional social network is the LinkedIn for creative talents and talent seekers to connect and get matches instantly.
Traction
Since our app beta launch in June 2014, we have had over 2000 beta users and mailing list subscribers by word of mouth. They have signed up and begun posting and connecting. CastingDB and its early adopters have since been working together to build its product offerings. We will be launching our completed website on 7th December 2014.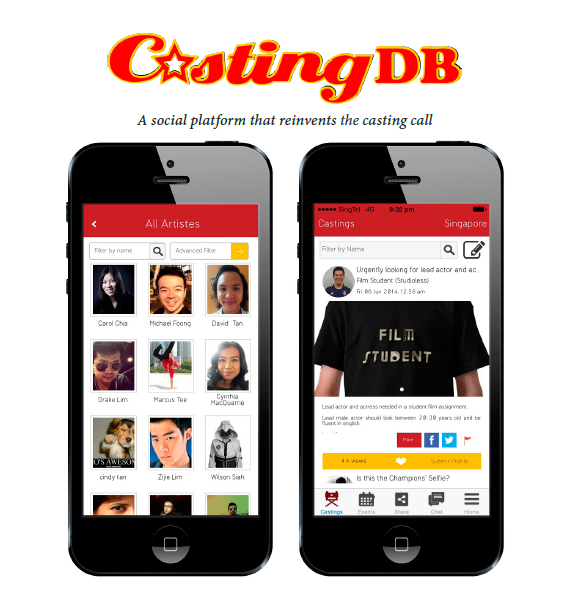 Features
Profile comprising photos, videos, stats, cv and contact info. Content creation. Showreel creation. Instant messaging. E-contracts & e-payments. Casting calls. Job matching. Video auditions. Database of all artistes, crew, companies and groups in each country .Production management software where users can manage their schedules, teams, workflow, scripts, logistics and etc. Invitation of friends via social networks, email and phonebook.
More information
Official – website
Creative Commons – images
On – Angel List
On – Crunchbase
Contact: castingdb@jfdi.asia