SINGAPORE, 7 JULY 2014 – Today, Joyful Frog Digital Incubator (JFDI), Asia's leading startup accelerator backed by Infocomm Investments (IIPL), the investment arm of Infocomm Development Authority of Singapore (IDA), presented its first-in-2014 cohort of 12 new startup teams to a strong showing of 150 local and global investors active in Singapore. Collectively, they manage over a billion dollars in early stage startup funding. This is the first Demo Day to be held as part of a strategic partnership between IIPL and JFDI to run accelerator programmes for high growth, innovation driven tech product startups based in Singapore.
The 33 entrepreneurs across 12 new tech startup teams taking the stage ran the gamut from business-to-business (B2B) to consumer; education to ecommerce to cyber security and enterprise mobility. They comprise JFDI's largest-ever contingent of Singaporean entrepreneurs, and founders coming from all over Asia including Indonesia, India, Philippines, South Korea, Thailand, and one team from as far as Northern Europe – Lithuania:
Steve Leonard, Executive Deputy Chairman of IDA and Chairman of IIPL, said, "It's great to see an international crop of tech product startups presenting to an international crowd of investors at today's JFDI Demo Day. There is a strong investor community with good connections around the world now flourishing in Singapore. This is matched by a strong accelerator community with JFDI and other leading teams helping to craft the right quality of tech product startups. With all these raw ingredients in place, Singapore is a real hub for Asian tech companies to build and grow."
The teams presenting today ranged from fresh entrepreneurs to veterans of several previous startups. They all joined the 100-day JFDI Accelerateprogramme on 20 March with a raw business idea that they hoped to scale globally. The programme has put them through an intensive lean innovation process, funding and access to mentors and connections that they need to succeed.
Meng Wong, Co-founder and Chairman of JFDI, said "Today brings the total number of teams that JFDI has accelerated to 38 startups. Historically, more than 60% have succeeded in raising an average of S$650,000 per team and they have created up to 30 high-value jobs each. A lot of that success is down to the way the community here in Singapore has come together to co-create innovation systematically. No longer do we see the smartest investors waiting for deal-flow to drop fully-formed into their laps. Increasingly, they're rolling up their sleeves, getting involved and, in several cases, have actually physically moved in with us to help us shape startups that the market wants."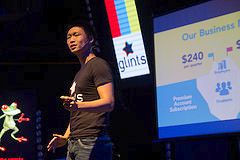 Glints, one of the Singaporean teams comprising three 21-year-old pre-college founders – the youngest startup that JFDI has ever accelerated – is building the 'LinkedIn' for youths which seeks to solve structural unemployment issues in the market. Oswald Yeo, Co-Founder of Glints, said, "The key takeaway from our participation in the JFDI Accelerate Programme is more than just capital, but what's most valuable is the intensive mentoring by people who have deep and varied experiences in building successful tech companies, and the great community connections that will follow us through our startup building career."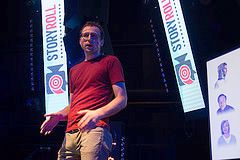 StoryRoll, founded by four talented entrepreneurs from Lithuania, chose to build their startup business in Singapore for access to the huge and growing Southeast Asia markets. "After spending 100 days in the JFDI Accelerate Programme, we feel like we have obtained a Master's degree in entrepreneurship. The strong mentoring, supportive environment, multicultural friendships with other international startup teams and connections to influential people have inspired us to work harder and believe that we can successfully achieve our goals," said Linas Sivis, Founder and CEO of StoryRoll, whose business idea is to bring micro-video to e-commerce. "JFDI.Asia is no doubt our gateway to Southeast Asia."
JFDI invests S$25,000 in each of the 12 startup teams and provides over S$100,000 worth of intangibles – in technical facilities, office accommodation, intensive mentoring and connections to more than 100 active early-stage investors.
A total of S$2.7 million funding was secured by JFDI in March this year to accelerate the growth of Singapore-based high growth tech product startups, with IIPL being the anchor investor to cataylse JFDI's fund-raising round and kick-start the running of the accelerator programmes.
Dr Alex Lin, Head of IIPL, said, "We are happy to see the first batch of promising tech product startups graduating out of this accelerator partnership between IIPL and JFDI. As a mover of the tech startup ecosystem in Singapore, we recognise there is a gap to be bridged arising from the mismatch between investors' expectations and the quality of tech startups in the market. That's how we see the value of the Accelerator model in growing tech startups at different stages of maturity and transforming them to focus on big ideas with the ability to have a global impact."
Video of the JFDI 2014A demo day is available on YouTube.