"Children grow up each in their own way. Your product must evolve too!" That was the lesson learned by Marina Chibirova of Russian startup Teach!Mi, writes Cui-Lyn Huang
1. How did you hear about JFDI Discover?
Following our initial success in Russia, an investor recommended we look into the Asian market. We had heard a lot about the education system in Singapore and surrounding Asian countries. Singapore's system is similar to ours in Russia – you are the creators of your own futures. Singaporeans work hard and therefore achieve amazing results.
We also learned that Singapore is home to the world's leading startup ecosystem, so we started to look research our options here. We came across JFDI.Asia, and the rest is history!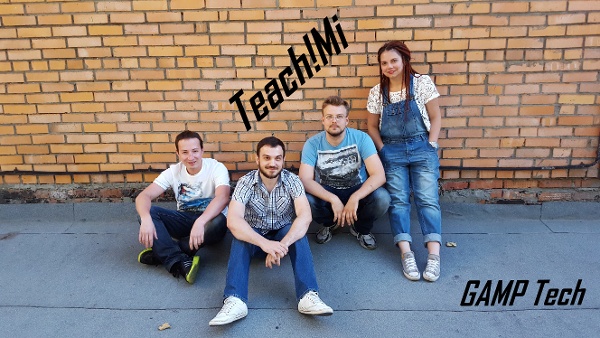 2. Tell us about your startup and team – who are you, and what are you aiming to do?
Teach!Mi consists of a group of enthusiastic Russians, who are aiming to create an educational platform for students in Singapore. We are currently developing a mobile app to help students, parents and teachers study different practical subjects and find solutions for problems within seconds.
Our app is able to generate different problem types (not just tests), as well as track personal progress. Parents can also review and receive their child's results and progress reports. Teach!Mi may also be useful for teachers to generate unique tests and immediately have correct answers.  Our global vision for Teach!Mi! is to create a mobile platform to help students prepare for GCE/GCE O level exams worldwide.
3. Why did you start this business? How has this impacted your life?
We want to change the way people learn. We studied a system called Mivar, and have found a way to use it in describing different educational subjects (at secondary and university level) to enable us to solve logical tasks using an algorithm. So we set Cambridge board and GCE exams as our first goal.
4. What were some of the challenges you faced before joining JFDI Discover?
Initially we had no connections in Singapore and wasn't sure in what ways we could benefit. We struggled to find a starting point, there is no such thing as instructions on how to create a startup!
5. How did JFDI Discover help your startup?
We've learned a lot about the startup "kitchen". We have grown a deeper understanding of our audience, and from that developed a constructive plan on how to improve our app. Thanks to JFDI we met some very energetic and interesting people, which has helped us in researching the Asian market.
6. What was your favourite and least favourite aspect of JFDI Discover?
Meeting and communicating with the other teams was definitely my favourite aspect. We were able to learn a lot from each other. But my least favourite thing would be the lack of time – there are a lot of really interesting projects and opportunities to learn from JFDI Discover, but I felt I could have gotten more out of the program with more time.
7. What is the one lesson you took away from JFDI Discover that you think other founders should know too?
Your first vision of your product is not going to be the end product. You need to work hard in deep market analysis and understanding your customer. Let your product change.
8. Where is your team planning to go from here?
We are considering applying for JFDI Accelerate! We've already planned a trip to Singapore in August to meet with some JFDI alumni, as well as grasp a better understanding of the lives of teachers and students in Singaporean secondary schools.
9. Which resources do you look to for startup related advice? Have you read any books on startups?
Ash Maurya's "Running Lean" became our table book, and we'd also recommend "Business Model Generation" by Alexander Osterwalder & Yves Pigneur.
—–
Thinking of starting your own business? JFDI Discover will help you find out if you really want to be an entrepreneur. It will reveal if your team is aligned to deliver results. And it will show you how to solve a real problem for customers who are willing to pay thus moving closer to a "problem-solution fit".
—–

Cui-Lyn Huang is on the Editorial team for JFDI Asia. Currently pursuing a combined major in Computer Science & Journalism at Northeastern University in Boston, and after growing up on the little red dot. She loves to write, she loves to eat, and loves to write about eating.