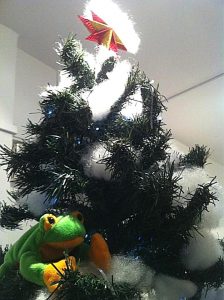 FDI.Asia's year ends with over 250 applications for our bootcamp to sift through and more than 800 start-up founders waiting to hear the results. They all read 3,000+ words of notes and answered 36 questions and 115 submitted videos so we're hugely impressed.
Seeing that JFDI.Asia is itself a start-up, it seemed only fair that we fill in our own application form. Besides, it's just, like, awesomely meta so here goes …
Which of the following skills do you personally have?
Hacker: I can build software. I will write code for this startup.
Hipster: I can do web and graphic design. I will build the UI / UX.
Hustler: I can sell to customers and talk to investors. I will do biz dev.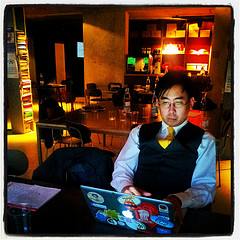 Meng:I am the primary author of RFC4408. I have written or contributed to several widely used CPAN modules (Mail::Audit, Mail::SPF, etc). Proprietary software includes an independent implementation of the MapReduce architecture pattern running on AWS EC2 and a distributed scalable DNS architecture. For fun, I have reverse-engineered the SQLite schema and published ORDB libraries for Evernote. I have been invited to attend and speak at the Hackers Conference since 2003. I write data mining and analytics software for JFDI's admission process, as well as automated business plan and pitch deck templating software for Demo Day.
As a hipster, I have over 10 years experience with Adobe Illustrator, 9 years with Adobe InDesign, and 5 years with Adobe Photoshop/Lightroom. I have produced, by hand and through software, a variety of financial and legal data visualizations in SVG. My Map of the Money in Singapore has been published in at least two books. I conceived and implemented the graphic brand identity of JFDI across a range of collateral from business cards to custom poker chips.
As a hustler, I previously co-founded two successful startups; one was bootstrapped and the other was venture-funded. My first startup reached $1M in yearly revenue within 3 years, but that was mostly due to my girlfriend who ran the business like a boss, so I can't really take credit for that. My SPF adventures gave me experience working within the IETF context creating consensus across a wide range of commercial and opensource interests. I have helped raise over $1M in angel funding from local sources for my current startup; I have been instrumental in helping our incubatees raise around $4M from local seed investors.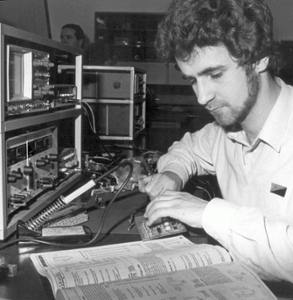 Hugh: Shameless hustler, though I was once a hacker. Wrote first program aged 12 on an ASR33 teletype connected to a mainframe. Wrote second program on punch cards. Built first computer aged 13 – it had 256 bytes of RAM and had to be programmed in binary – there's a picture of my bedroom at the time on Wikipedia. Built next computer using electro-mechanical relays. Built radio transceivers, giant antennas, TV cameras, oscilloscope, Radio Station and TV station by age 22.
Chiah Li: Don't think I fit into any category. Since entering the industry in 2008 on the investor side of the table, I am glad to be able to share what is considered an investible business or not. Instrumental in helping our incubatee companies raise follow-on funding of around S$4M.
Ray: Hustler/Hacker
Nathan: Hippie
Tell us about your areas of extraordinary expertise. What do you know better, or what can you do better, than almost everyone you know?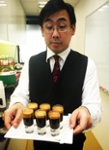 Meng: I am an enthusiastic amateur sous vide cook, regularly producing steak (132°F) and egg (147°F) dinners for up to 50 people at a time, at home, and at hackerspace.sg, which I co-founded. As a natural connector, I enjoy bringing people together over meals to create synergy value. I have read many of the Hugo and Nebula award winners of the past 50 years. I have practiced and studied innovation and entrepreneurship; now I participate in defining public policy around creating industry cluster ecosystems. A few years ago, I met with the Mozilla board to explore a leadership role in the Thunderbird project.
Hugh: Storyteller with deep interest in innovation earnestly doing a Masters to try and make sense of what we are doing.
Chiah Li: I am an ISFP which gives me this natural ability to read people well, through quietly observing their nuances and subtleties in their actions, body language and speech. As a proper Singapore girl, of course i know all about money and investment. My 6th C is 'convertible note'. Happiest helping JFDI and incubatee companies raise money.
Ray: Multicultural kid, fluent in Mandarin Chinese, English, and German. Grew up in three continents, I am often an outsider. Enjoy making friends everywhere.
Nathan: Seeing the positive potential in people and how that links to a greater whole in the universe. Can levitate, I mean, meditate.
What are your favourite books generally? And which books would you recommend for us to better understand your expertise?
Meng: Favourite authors include William Gibson, Iain M. Banks, Ursula K. Le Guin, Paul Graham, Neal Stephenson, Richard Feynman, Douglas Hofstadter, Richard Bringhurst, Edward Tufte, Bruce Sterling, Marshall McLuhan, Sheri Tepper, Lois McMaster Bujold's Vorkosigan series, Isaac Asimov, Arthur C Clarke, Cory Doctorow, Jared Diamond, Charlie Stross, Robert Wright, Julian Jaynes. Heroes include Vannevar Bush, Paul Baran, Marc Andreessen.
Hugh: Jonathan Strange & Mr Norrell, Games People Play, A New Earth, The Remains of the Day, The Geography of Thought, The Curious Incident of the Dog in the Night-time, A Hundred Years of Solitude, The Human Factor, 14 Days in May, The Unbearable Lightness of Being, God and the New Physics, Anything by Patrick O'Brien, Accelerando.
Chiah Li: My taste in books is very eclectic. Andrew Metrick on Venture Capital Finance. Venture Deals. Alchemy of Finance, Mergers and Acquisition playbook. A Pattern Language. Christopher Alexander. Innovation Economics. Ewan Mckendrick's contract law. Any books on Berlin. Any books on Innovation. Any books on Manchurian. Arabian nights. Hong Kong's Jin Yong's series. Walter Woon. Niall Ferguson. Twilight series.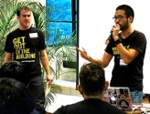 Ray: Anything Hemingway's, Hermann Hesse's Siddhartha, Orson Card's Ender's Game, Sherlock Holmes, Harper Lee's To Kill A Mockingbird, Ayn Rand's Atlas Shrugged
Nathan: Anything that Dave Snowden writes
Have you made any unusual lifestyle choices? Tell us about your strange food choices, weird hobbies, or bizarre behaviours which mainstream humans just don't get.
Meng: I feel it is unseemly for a gentleman to appear in public without a jacket and tie. I practice a paleolithic diet, wear Vibram Fivefingers, and have not used soap or shampoo regularly since 2009. I used to drive a car whose custom license plate was "SOME PIG", and I once had to explain it rapidly to a New Jersey police officer who pulled me over for no other reason. As a lover of fonts, I have visited both the Plantin-Moretus museum in Antwerp and the Tipoteca Italiana in Treviso, and I can identify dozens of popular typefaces on sight. I can also identify many women's perfumes by smell alone, but as superpowers go, this one is either useless or creepy, depending who you ask. I have bought sixteen Kindles. I once won an iPhone 5 in a calculated raffle at Failcon but, appropriately enough, was unable to use it because it did not fit into my waistcoat pockets. People often think I am being sarcastic, when I am not. I understand women.
Hugh: I have a deep and so-far unfulfilled desire to keep pedigree chickens. The ones with fluffy legs. In my spare time I enjoy watching archive moral instruction films.
Chiah Li: A wayward child of the Singapore education system who's also really into Goldman Sachs and law. Bum around in theatre for a while to hang out with the hipsters and the cool people. Part of the founding team of a satirical standup comedy magazine 'Banter' to ride the rising wave of the free magazine model back then, surviving on advertising revenue. A full circle is complete when i went on to do a chartered accountancy program which brought me back to investment finance and understanding a subset of law (contract law and company law).
Ray: I lived out of a bag for eight months and spent on average a couple of weeks in over 15 cities. Not just traveling, but got to know entrepreneurs, startups, and investors in each city across the US and Asia.
Nathan: I chose to study flower arranging and meditation as part of my university education.
Tell us about one of your hacks, the one which you are most proud of.
Meng: Once, while being examined on the witness stand, I got a High Court judge to sympathetically suggest that living with my mother was cramping my style.
Hugh: Persuading Ford Motor Company to lend me three cars to have their screens smashed live on BBC TV, repeatedly, with Ford picking up the tab.

Chiah Li: Armed with a canon 20D camera, i gained entries into countless private events, restaurant/bar openings with the line "oh daarling! We would lurvve to cover your event!'.
Ray: Wrote an algorithm for the Match.com of tourists to locals. Except it spat out randomized arrays from a pool of 200+ candidates at SxSW, who had signed up for the service within 48 hours.
Nathan: I hired a new principal for my college
Why are you pursuing entrepreneurship?
Meng: Gotta walk the walk, man. This whole Silicon-Valley-Singapore thing? I'm one of the very few people qualified to do it; and if I don't get involved, it might not get done. Also, someone once said that accelerators are therapy for ex-entrepreneur angels, and it's true: JFDI is my way of coming to terms with my first few traumatic startups.
Hugh: After 25 years as my own boss I am now unemployable
Chiah Li: I hope to leave a legacy behind. That in history i am remembered of being part of and contributed something of value.
Ray: To change the world in some ways. Whether big or small.
Nathan: Disruptive organizational design
Are there any obligations that prevent you from being in Singapore, working full time, during the entire course of the bootcamp? (Feb 14 through end of May 2013, and most of June as well.)
We will all be here.
If you were working for somebody else, or freelancing, how much money could you expect to make in an average month?
Meng: As an Asian, I was once paid US$180,000 a year to live in the Deep South, near Tennessee. I spent most of it on food. A year later, I bought a Benelli tactical 12-gauge shotgun, which I kept in my bedroom closet next to a pair of waterproof pants.
Hugh: The last regular salary I can remember receiving was £3,700 per year in 1988. Self employed too long – what's a salary?
Chiah Li: $8k
Ray: $2-4K without coding
Nathan: I can teach yoga for $10K a month
In months, how long would you be willing and able to live with no salary?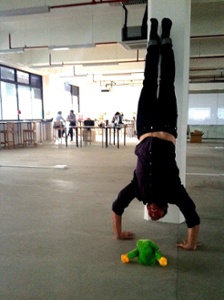 Meng: Indefinitely; I can keep my expenses well below my income, thanks to vacuum sealing and precise Pasteurization of high-fat meat products. It would probably be a good thing if I weren't allowed to buy any new books; I'd have to start reading the ones I already owned.
Hugh: It is 20 years since I knew how much I will be earning next month. I have learned to live with uncertainty and sympathised as friends who thought they had a steady job were given 1 month's notice.
Chiah Li: I barter for food, so i can last as long as i'm well-fed.
Ray: 12 months. But I also said that 12 months ago.
Nathan: Yoga empowers me to channel voodoo frog-fu energy from the rainforest, giving my body all that it needs.
Tell us about your greatest accomplishments, as measured by impact: the number of people who have benefited from your work directly or indirectly.
Meng: As an entrepreneur at pobox.com and listbox.com, tens of thousands of customers and hundreds of thousands of users have used, or paid for, products and services I developed. As a hacker, I have developed open Internet software and standards surrounding RFC4408 (SPF). Most of the world's legitimate email now uses SPF or related sender authentication standards like DKIM to improve spam filtering; my impact footprint probably covers over 1 billion people, though I forgot to monetize any of that. Oops!
Hugh: Becoming a Dad. Made first broadcast TV for BBC age d24. Made over 150 shows transmitted around the world, one of which was nominated for a British Academy Award. 45 million people worldwide watched my film about 1995 eclipse of the Sun made for Discovery Channel. I have created 6 businesses that have employed over 200 people. I have directly mentored over 350 individuals and companies in last 15 years.
Chiah Li: i have not thought about measuring my impact in this manner, standing from my perspectives. I prefer to let results speak for themselves.
Ray: Introduced Lean Startup to many entrepreneurs this year with Nathan.
Nathan: Yeah. Like he said.
How many times in your career have you led the development of new products, services, or technologies? Explain the key ones briefly.
Meng: Within the IETF context, I worked with numerous people far more talented than myself on SPF. I developed the opensource standard, BNF language specification, and reference Perl libraries for SPF. I also wrote the white paper and produced diagrams which helped people understand why it mattered and how to use it. At JFDI, I am developing the Frog Score and a related Patterns book for startups.
Hugh: Hundreds. It's what I do. In TV I had to create and implement new ideas every day.
Chiah Li: This is not my area of expertise. I am only able to help when there's an inkling of a revenue model, a business model in place.
Ray: I have led two products, both on the coding side. Indirectly, worked with hundreds of teams on Customer Development.
How did the team get together?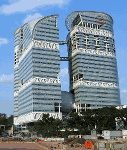 Meng was speaking at an MDA event at what was then the new Fusionopolis building in Singapore in 2009. Hugh was in the audience and laughed so much he felt compelled to Google Meng and suggest meeting. A 6 hour dinner in Kampong Glam resulted in geektastic bromantic intercourse and the co-founding of Hackerspace.sg with a group of friends.
Only later did they find out that the event where Meng and Hugh met was organised by Chiah Li. So it was clear that she should become JFDI.Asia's Fairy Godmother-In-Residence, introducing start-ups to investors.
Ray called Hugh in early 2012 saying he was going to come to SE Asia, bringing Lean Startup Methodology and Nathan with him. Hugh tried to dissuade Ray, saying Lean was already here. Ray and Nathan delighted Hugh by completely ignoring his advice and came anyway. The rest is history.
How long have you known one another?
Meng / Hugh / Chiah Li: 3 years
Ray / Nathan:
 1 year
What has the team already achieved together?
Well it's more about what our community of start-ups, sponsors, mentors and investors have done. Here are some highlights:
Helped initiate hackerspace.sg in 2009.
Set up SE Asia's first mentor-driven seed accelerator program, which was invited to join the Global Accelerator Program set up by TechStars.
Taken 11 teams of entrepreneurs from idea to investment in 100 days, with greater than 60% success raising an average S$650,000 per team.
Independent valuations prove that JFDI.Asia increases the value of start-ups passing through its program by 4-5X in 100 days.
Built a community of 5,000+ entrepreneurs, investors and mentors across the region.
Created key partnership with Golden Gate Ventures to expand outreach to talent across the region and offer a direct link to Silicon Valley.
Engaged a community of over 150 active early-stage investors and mentors commit time and insights to help grow the ecosystem.
Created structured engagement program to link start-up energy with the market insights and access of corporate partners.
Invited by MIT to support Singapore University of Technology and Design (SUTD)'s entrepreneurship and intrapreneurship teaching to undergraduates.
We like metrics so here are some of our favourites:
200 local businesses and individuals benefited from our pilot year in 2010, when 8 mentors came from around the world to share their insights, giving over 500 hours of mentoring and 44 public talks
16 local business angels, 2 government agencies and 1 major sponsor committed to support JFDI by August 2011, so we pressed the Go button to do the full roll out.
46 strangers arrived on 26 JAN 2012 and over 100 days worked with around 50 mentors through an incredibly intense experience.
1 team member became a Dad and another found out he was going to have a second child. 2 members of our community lost a parent or grandparents who raised them as children. 2 team members got married (to each other).
2000 Nespresso capsules and 18kg of cheese were consumed by teams and visitors to 58 public events.
0 animals were harmed in the making of these startups. There were 0 fatalities and 0 hours were lost due to accidents or industrial action.
Which of the following books have been read, in full, by at least one member of your team?
Our reading list is here
Tell us about the startup idea, in 140 characters or less.
We are building an innovation academy, using Lean Startup ideas to take entrepreneurs from idea to investment in 100 days, in Asia, for Asia.
Can you name the product or service category in which your business competes? What is it called?
Seed Accelerator
At what stage is the business?
We have proved we understand a problem worth solving, and that we have a solution that fits that problem. The market wants what we produce and we now need to evolve our business model to become sustainable. We face the same challenge as some of the best-known accelerators in the world – early stage business acceleration is all about 'jam tomorrow' and it needs to find a way to feed itself today.
Why is now the right time for this idea?
In the last five years, new research and practical methods have shown that innovation need not be a mystery and entrepreneurship need not be painful or lonely. Both can be learned, working with peers and guided by mentors.
Please record a short video (2–5 minutes) where all your team members introduce themselves and together you explain your business. Upload it to YouTube and give us a link.
Why you?
Right skillset, right place, right time. And we have a cute green frog called Smoochy, who is our mascot. He is a shameless cam-whore.
Tell us about your new perspective, or insight, that is key to the startup. What do you see that most others don't? This perspective may be unique to you, or shared by a small, avant-garde community.
People think seed accelerators are in the business of finance and investment, but we are really in the business of education and talent scouting. Accelerators are the new media equivalent of a movie or music studio, and it's up to us to identify raw talent and offer them an environment where they can reach their full potential. The best model is apprenticeship leading to mastery, and in that sense we are a startup guild, a paradoxical school for the self-taught. As a civic institution, we are not just accelerating start-up companies – we are also accelerating the development of an ecosystem, turning inventors into investors and founders into funders.
If you're responsible for conceiving the innovation, tell us about your authentic, personal connection to the idea – why, and how much, do you care to actually make the solution happen and get people to use it?
We believe that we are part of a worldwide movement which is democratizing early-stage entrepreneurship and innovation. We see that the new methods we have introduced to Southeast Asia could have lasting positive impact. We have so far committed three years to making this happen and are hugely inspired by the community of over 5,000 people whose ingenuity and enterprise we celebrate.
Is your idea, fundamentally:
a for-profit business
Describe the ideal founding team for this business. What background would they have? What educational qualifications? What work experience? What life experience? What industry connections? What product development capability?
Well-connected successful entrepreneurs with time on their hands and a 20 year commitment to building an ecosystem.
Approximately how many startup teams are there in the world, who are as qualified as, or more qualified than your team, to execute your idea? Assume that all those other startups are just as passionate and hardworking as you are.
50
Using Clayton Christensen's framework, does your concept qualify as a disruptive, sustaining, revolutionary, or evolutionary innovation?
We disrupt the traditional VC industry, and also the MBA school.
Is there some structural reason that incumbents can't do this, while a startup can?
Most incubators are:
Based on a real-estate based business model (renting desks) and lack the capacity to provide intensive mentoring and community essential to accelerate start-ups, and/or
Are typically driven by a quantity-rather-than-quality priorities and their decision making is compromised by institutional politics.
Lack deep connection to the investor community.
If the main idea doesn't work out, do you have other ideas which you'd like to try?
Yes. More than we can fit into our lifetimes.
Will the rest of the team get behind those other ideas, or will they quit?
Yes.
If you would be willing to work on one of our Requests for Startup, please give the numbers of the RFS listed here.
Any. We think they are all great, but then we wrote them so …
What else should we know about you and your idea?
We are sometimes asked about our name. We translate it to Chinese as 佳孵蚪伴, the characters within which literally mean Good Hatch Tadpole Partner while also capturing many of the sounds of the English letters J, F, D and I.
Counter-revolutionary stooges have spread malicious rumours that our name derives from a vulgar American expression, the polite version of which is Just Focus and Do It.
Shame on the house of these imperialist running dogs 走狗 ! Truly, these motherless goats of all motherless goats (羔羊中的孤羊) have added feet to the drawing of a snake (画蛇添足). In fact our name is rooted in both noble mythology and science.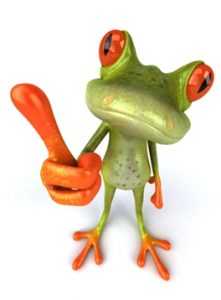 Five Fabulous Frog Facts
Frogs are diamagnetic and so can be levitated, alive and unharmed, in strong magnetic fields.
An Iraninan proverb says: "When the snake gets old, the frog gets him by the balls."
Pathological fear of frogs is termed Ranidaphobia.
Crunchy Frog is the name of a fictitious confectionery in a Monty Python skit of the same name
An Ancient frog-goddess named Heget was sometimes depicted as a frog on the end of a phallus to indicate her association with fertility.