Joyful Frog Digital Incubator (JFDI) today announced that applications are open for its next 100 day startup accelerator program to start in August. Teams accepted to enter the program will receive an immediate SGD50k (USD37k) commitment for a fixed 8.88% equity stake, double the investment that JFDI has previously offered, with the promise of an additional SGD70k (USD 53k) follow-on participation at the seed round for the most successful startups. Reflecting the increasingly international make-up of JFDI's portfolio, the program will partly be delivered online, giving startups the option to stay close to customers and to extend their runway by basing themselves where expenses are lower than JFDI's base in Singapore.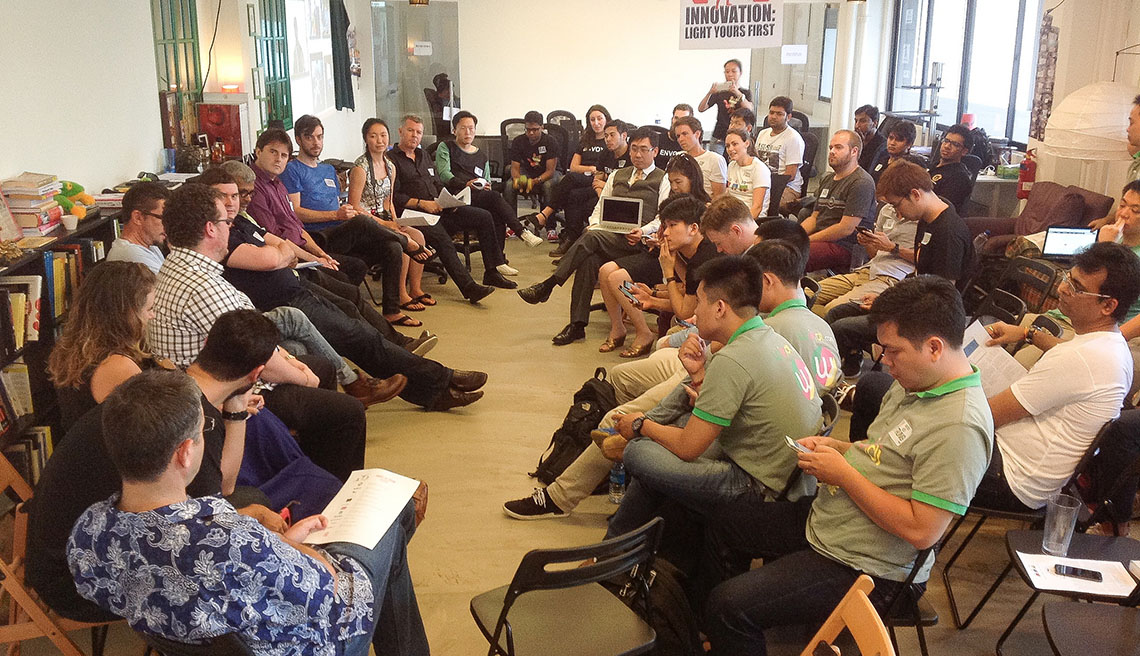 Photo of the 2015A Accelerate Batch
In addition to the cash investment, every team will be offered a package including intensive one on one mentoring valued at SGD150k (USD113k), plus technical and other vendor perks worth SGD1.2m (USD 908k). They will also enjoy the opportunity to pitch to over 100 active early-stage investors at a demo day. Unlike other high-profile accelerators, JFDI charges no fees to participating startups.
Speaking at today's Wall Street Journal Tech café event in Singapore, JFDI Co-founder and CEO Hugh Mason said: "Thanks to investors who have recently joined to support our work, the increased funding we can now offer startups will give them more runway to build traction and puts JFDI's offer on par with other elite accelerators around the world. In fact, for many working out of low cost, high-opportunity countries like India and Vietnam, our total SGD120k (USD90k) offer plus an unbeatable package of vendor 'perks' will take them a long way towards a seed round."
Startups typically see a 7-10X boost in their valuation through the course of the JFDI Accelerate program, thanks to intensive mentoring and the international community of alumni that JFDI has built up over five years and seven cycles of startup acceleration. Star participants from previous cohorts includeTradegecko, Healint, OurHealthMate, DatastreamX and Silent Eight.
JFDI actively supports teams to close seed funding and beyond, with many teams joining to learn from former alumni who have 'been there, done that' before across Asia, the world's most dynamic startup region. Historically, following demo day, more than 60% of JFDI's startups have received seed stage funding offers averaging SGD600k (USD450k) per team, sufficient for an 18 month development runway in Singapore, or much longer elsewhere in the region.
In parallel with the increased funding announced today, startups going through JFDI Accelerate will gain a new option to spend part of their time away from Singapore while still participating in all the program has to offer. Previously, a condition of participation was that teams committed to full time presence at JFDI's innovation campus in the Lion City.
JFDI Co-founder and Chairman Meng Wong said: "Singapore is an aspirational place for international entrepreneurs to live, incorporate and raise funding, so it's no surprise that 90% of our teams come from overseas to join us. Just in the building where we are based there is over SGD1.5bn (USD1.1bn) seeking early stage investment opportunities. For now, there are also far more quality mentors with real experience to share than other Asian startup hubs. But costs are much lower elsewhere in the region and the market for our startups is also often back home. So this time around we are experimenting with transformational technologies like Slack to virtualise our offering, giving teams the option to accelerate with us wherever they choose to be based, for part of the program."
If the experiment to deliver Asia's first 'accelerator on the cloud' succeeds, JFDI may move entirely to an online model in future, or offer a blended offline/online experience from diverse regional centres that gives entrepreneurs the best of both worlds. For investors it will bring the chance to see the strongest possible field of curated talent while mentors will get back as much as they give as they gain insight into the widest range of territories, technologies, business models.
Hugh Mason continued: "Instead of trying to create a 'Silicon Valley of Asia' in any one country, JFDI's vision is to work with multiple partners to foster a pan-Asia entrepreneurial ecosystem that makes the most of the region's diversity and encourages businesses to go global from day 1. We are very encouraged by the positive impact of our JFDI Discover pre-accelerator, which has now helped hundreds of startup teams across the world since we launched it in January 2014. Every month our team in Cebu, Philippines delivers this 21-day course remotely and teams tell us that they really appreciate the opportunity to try working with us and to validate their ideas, wherever they are, without giving up their day jobs. We want to explore how far we can push remote delivery to open up the support we can offer and to fulfil our mission to support the growth of an awesome entrepreneurial ecosystem in Asia, for Asia."
JFDI strongly prefers balanced teams to lone business founders. It invests in digital startups across all sectors, with a preference for companies addressing the problems and aspirations of the rising urban middle class in Asia, whether at home or at work. Startups, potential mentors and investors can reach out toJFDI for more information at: info@jfdi.asia or apply to its programs immediately online.
—
About Joyful Frog Digital Incubator (jfdi.asia)
JFDI is Asia's #1 startup business accelerator programme, the first of its kind in ASEAN and first in the region to join the Global Accelerator Network set up by US accelerator pioneer Techstars. JFDI takes teams of entrepreneurs from validated ideas to investment readiness in 100 days. Since 2012, it has graduated 50 startup teams, with an unrealised 48% IRR to investors based on independent valuations following the accelerator program. JFDI's work is funded by around 30 serial entrepreneurs, family offices and institutional funds including Infocomm Investments Pte Ltd (IIPL), the investment arm of Infocomm Development Authority of Singapore (IDA).