Instant Edge announced today that it had closed a USD1.1m seed funding round led by Dubai-based investment firm VEGA. The funding will allow Instant Age to build its software development activities in Singapore around Business Process (BPM), Project Portfolio (PPM) and IT Services Management (ITSM) and to grow sales & marketing in Europe.
Instant Edge is an enterprise cloud cloud software startup founded by German ex-SAP managers in Singapore which graduated from JFDI's Discover pre-accelerator program in 2015. The company aims to ensure that its enterprise clients benefits from the delivery of digital transformation, mindful of McKinsey research that shows 56% of projects fail to deliver value on-time and on-budget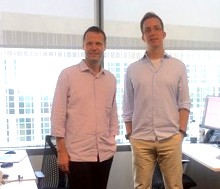 Dr. Mathias Behne, Co-Founder & Chief Technology Officer at Instant Edge said: "The solution is focusing on end-to-end product delivery, rather than projects. Organisations must focus on business outcome rather than project outputs."
Instant Edge provides that solution: a single place where any change initiative – regardless of size – can be managed as an end-to-end journey through a lifecycle of activities. The result is improved timeliness of product and project delivery through increased focus and better execution, regardless of the size of the endeavor or methodology applied.