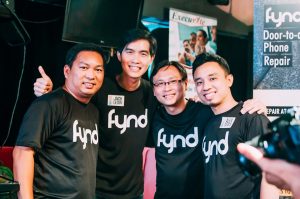 Fynd, Singapore's leading on-demand mobile device repair platform, has raised SGD520,000 in pre-Series A funding in a round led by Far East Ventures and supported by industry veteran Koh Boon Hwee.
Far East Ventures is the venture capital arm of Far East Organization, Singapore's largest private property developer. The funding will enable the company to accelerate its scaling around Southeast Asia.
Founded in 2014, Fynd graduated from the JFDI Accelerate programme in December 2015. It offers fast, convenient and trustworthy services to repair smartphones and tablet devices anytime, anywhere. Because the devices never leave their sight, owners can be completely confident that personal information held on the device will stay safe.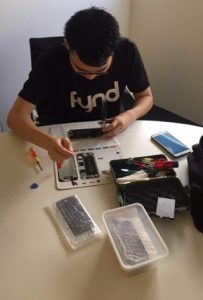 "Fynd's first phase was all about getting the value proposition and processes right for both customers and our iSpecialists, the experienced technicians who deliver our service on the front line. On an operational level, that is now working really well. Going forward, the challenge for our next phase is to scale as fast as we can while making sure we stay true to the promise of reliability and trust that lies at the heart of what we do. Far East Ventures and Mr Koh Boon Hwee both have extensive industry experience and networks across the region that will be invaluable to us as we grow," said founder and CEO Albert Tirtohadi.
Fynd has already started operations in Hong Kong and plans to expand to Jakarta by the end of the year. The fact that Fynd has been able to achieve so much traction and was already profitable when it left JFDI's accelerator programme were key factors in the investors' decision to back the company.
"We see great potential for Fynd's services, especially in markets with very high smartphone penetration such as Singapore and Hong Kong. We are excited to be a part of Fynd's journey to explore this familiar yet untapped space," said Jonathan Ng, co-founder of Far East Ventures.
To celebrate today's milestone, Fynd is offering a promotional code FYND2016 that entitles every customer to a $16 discount off any repair from August to October 2016. To book a repair appointment wherever you are in Singapore or Hong Kong, simply visit www.getfynd.com or www.getfynd.com.hk.