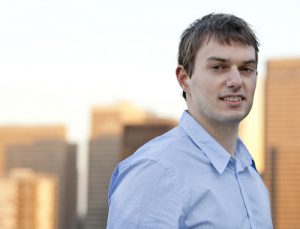 We are often asked by business-trained entrepreneurs how they can attract stellar technical co-founders to realize their ideas. JFDI mentor Yvan Castilloux' journey has taken him from co-founding a successful wifi business as CTO to an MBA at INSEAD, so he's seen both sides of the situation.
Yvan's advice? Engaging a technical co-founder may be much simpler than you think, if you both share the same passion and develop the business together.
As a student, I was passionate about entrepreneurship. I was very involved on campus and I felt that making stuff happen was fun. It happened that two of my McGill classmates also dreamed of starting up a company so I gave it a try for a summer between my 3rd and 4th year of University, without analyzing the situation too much. After all, I was young and intrepid. The passion was there and it seemed that my partners and I shared similar values at the time.
I remember building the office for what became Newtrax Technologies in the basement of a house with nothing but passion and lots of time and effort. We had no idea of what we wanted to do. We had a dream and a team. That's what our early investors bought.
We started out trying to solve the problem of merchandise theft in cargo. After several years, we had a core wireless technology that could operate for years on battery, spanning tens of kilometers without electricity or communication infrastructure. That turned out to be a great set up for our current success in underground mining, where our wireless infrastructure solution is installed in more than 30 mines in the world.
Stay flexible and open
It is conventional wisdom that you need a PhD and specific domain knowledge to succeed. We did not have those things and yet we probably developed one of the world's most advanced wireless technologies. I was in my early twenties and I had to learn about wireless mesh networking and sensors. We hired a few senior guys to help out. I learned from their experience, read countless of grad textbooks on weekends and worked extra hours to experiment new ways to do things. At the end, it all worked out, so I learned to stay flexible and open.
Having people that bring pre-existing content knowledge is good but not the most important. It frustrates me that recruiters in most companies require this now: it's total BS. What you need is passion, a willingness to learn and strong base skills. There's no need to have specific knowledge such as C/C++, Ruby or anything else.
I'll give you another example. After several years of being mentored at Newtrax, I ended up leading the entire product development team. I had to mentor and recruit top talent and I remember very well one person who I interviewed for a senior engineering position. He had no previous experience in our technology, but he seemed passionate. He could relate in detail what he had done developing technology for audio playback and had opinions about technology problems in general. So I pushed hard to hire him and a few more people with similar profiles, including a fresh grad from college.
Share ideas and bond together
I created detailed documentation for the core technology and we had a few training sessions per week. The interesting thing was how those sessions became the best brainstorms I had ever gotten into, because we had both a great depth of expertise and passionate people in the room. The new employees learned the new content very quickly and, not only that, were able to challenge us and improve our understanding with innovative concepts.
Doing this, we solved some very deep and complex problems. Within 6 months, we decreased communication and tracking latency of our network by ~3 fold while making tracking reliable in the presence of heavy trucks. We also increased battery life by 50%, meeting a critical market requirement for the product. I sold the vision of what we could achieve and I had no idea whether we would succeed since we were touching unknown technological grounds. And we did!
Don't forget to have fun
At my next business, People Power, the CEO held an "all hands weekend" every 6 weeks, much as Steve Jobs did in the early days of Next Computer. He invited everyone close to the company including employees, consultants, partners and clients for a weekend of work and fun.
The first weekend I attended convinced me that I could develop a deep personal connection with the company, especially after playing so many Fussball games. We bonded as a team, drawn together by the depth of the different technologies and products that people there had developed and how fast people were learning about the new energy-efficiency market.
Three golden rules
So here I'll summarize the three most important lessons that I've learned about finding technical founders, based on my own experience.
First, it's all about passion and vision in the business. This is the first thing that will attract the attention of any potential technical talent. He or she wants to be part of an "odyssey" and you have to show that you're willing to do whatever it takes and that your entire focus is on the business. When I met several of the key technical people at Newtrax, I made sure I showed them that I knew everything about the technology and business, and that we were there to solve a big problem: saving miners and helping mines to make lots of money. My message was: this is the journey you're embarking and it will be fun!
Second, go to start-up and tech events. I personally met my last partners at People Power when I was volunteering at a clean tech conference in San Francisco. These things pay off over long periods of time. So start going now.
Finally, stay abreast of what's going on and follow the development of start-ups in your field. Read, read and read. It might sound obvious but it makes a huge difference: make sure you cover Twitter, Facebook, blogs, newpapers and industry magazines. Be disciplined and spend at least 30 minutes a day on this.
What others say you should look for
According to Colin Hayhurst, good candidates are those who may appear obsessive by taking their work too seriously. Hire someone with passion and determination who has shown these traits through personal projects or exceptional achievements.
In a post for Mashable, Scott Gerber sets out the 14 most important traits of a CTO with illustrative examples. It's a fun read.
Non-technical founders need to acknowledge that they can't hire developers, says Liam Boogar. That's the key role job for a great CTO and hiring the right person who can to sell an adventure might take months or years, but it's worth it.
Good luck in your search.
Yvan Castilloux blogs and tweets @yvancastilloux