Hot on the heels of JFDI's first startup to raise Series A last week, this week sees another milestone: our first alumnus to exit.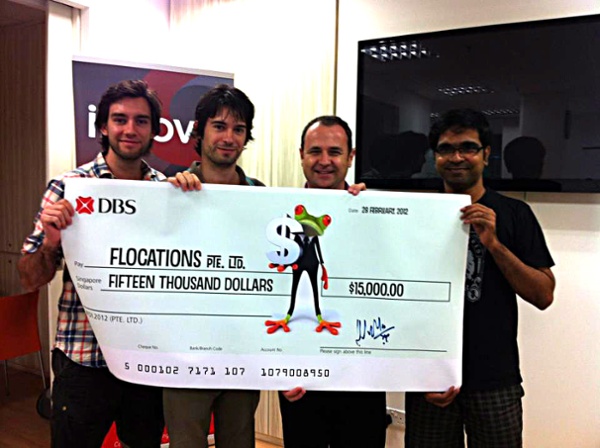 It seems like only yesterday that we snapped this picture, the day that JFDI gave Flocations its first round of funding, back in January 2012. Time flies … like a travel startup … and this week, Singapore ­ Venture Republic Group (VRG) announced that it was acquiring what has become Southeast Asia's largest marketplace for online tour packages.
Flocations was founded in 2012 by Tudor Coman, Venkatraman Dhamodaran, Shaw Chian and Florian Cornu. Their startup was part of the pioneer batch of teams running through JFDI, Southeast Asia's first and longest-running accelerator program.
Now operating in Singapore and Indonesia, Flocations offers over 80 commercial agencies and 6,000 tour packages across the region. "Southeast Asia will be the largest travel market in the world in the next 5 years and Flocations is extremely excited it will be there with VRG, " said Tudor Coman, Flocations CEO and co­founder.
VRG's hugely successful packages business in Japan, with its brands such as travel.jp and hotel.jp, made Flocations an ideal target for its expansion plans in the growing tour packages industry of Southeast Asia.
"The Flocations team has always impressed me with their innovative approach to travel discovery. Their current business is very much in sync with ours," said Kei Shibata, CEO of Venture Republic, who sits on Flocations' board of directors. "We can't wait to leverage on what they've built so far to offer more exciting travel experiences for the region."
Like many JFDI startups, Flocations addresses a need for the rising middle class across Southeast Asia's dynamic economies, in this case the strengthening demand for regional travel. According to a report by the United Nations World Tourism Organisation (UNWTO) in 2013, the region posted the highest growth among Asian sub­regions, with 9% more arrivals, largely due to continued strong intra­regional demand.
Co-­founders Venkatraman Dhamodaran and Shaw Chian will joining VRG as part of the acquisition. "We are very excited to and work closely with Kei and his team," said Dhamodaran. "VRG has a very successful packages business in Japan and we can't wait to build better travel products for the region together."
Meanwhile, Tudor Coman has joined JFDI's other stand-out success story from 2012, Tradegecko.com, which last week closed a $6.5m Series A funding round. Florian Cornu continues to support the startup ecosystem as an advisor of startups such as theAsianparent and as organiser of the SaaS Business Asia conference. He is also a regular mentor on the JFDI Accelerate Program where the Flocations founders first started pushing their business for growth.
Hugh Mason, CEO at JFDI, said: "When Meng Wong and I set up shop we thought we were running a kind of car wash for entrepreneurs. We thought that the program we devised to get them investment ready was what mattered. Yet today we see that's not true. Anyone can claim they have set up an 'accelerator' but the collective intelligence and trust in a community of people who have personally worked at the front line, won battles together and learned the hard lessons of losing others — that takes years to build. The open way that the founders of Flocations are already sharing what they have learned about SaaS and the travel sector is an inspiring reflection of what makes Silicon Valley successful."
—–
If you would like to explore the JFDI Accelerate program that helped Flocations on its way, please reach out to us.